Apr 26 2022 4:30 PM
Developer breaks ground on 3,200-acre community in Celina
Construction is underway on a massive master-planned development in one of the region's fastest-growing cities.
Centurion American Development Group has broken ground on Legacy Hills, a 3,200-acre community in Celina near the intersection of Legacy Drive and Celina Parkway. The site has about 4 miles of frontage along the planned expansion of the Dallas North Tollway.
The project is the company's largest mixed-use development to date, and it's set to include 7,000 single-family homes, 4,100 multifamily units and 100 acres of commercial development.
It will also have a sports park, walking trails and amenity centers as well as land for Celina ISD schools and fire and police stations. Each subdivision within Legacy Hills will have an amenity center, a community pool and a playground. The site also will be home to Celina's first 18-hole golf course.
"The golf course is a great addition to the city of Celina — it's one of the chances we get to put something next to the tollway that presents Celina," said Mehrdad Moayedi, president and CEO of Centurion American.
The single-family subdivisions will include 40-, 50- and 60-foot lots developed by builders including Ashton Woods, Beazer Homes, D.R. Horton, First Texas Homes, Lennar Homes, M/I Homes and Mattamy Homes. Senior homebuilder Del Webb, a division of PulteGroup, also has purchased a large tract of land on the site, Moayedi said.
"It's a community of all types of homes and all prices of homes, so we're really proud of that," he said.
The first phases of homes could open by the end of 2023, and construction of the golf course should also be far along at that point, Moayedi said.
Moayedi said the company wanted to bring in builders that know how to sustain and deliver homes through hard times. The project is expected to take about 10 years to build out.
"I'm sure we're going to hit the downturn of the economy during that period of time," Moayedi said. "It's important to have people that financially are capable of staying there and doing what they're supposed to do in going through that time."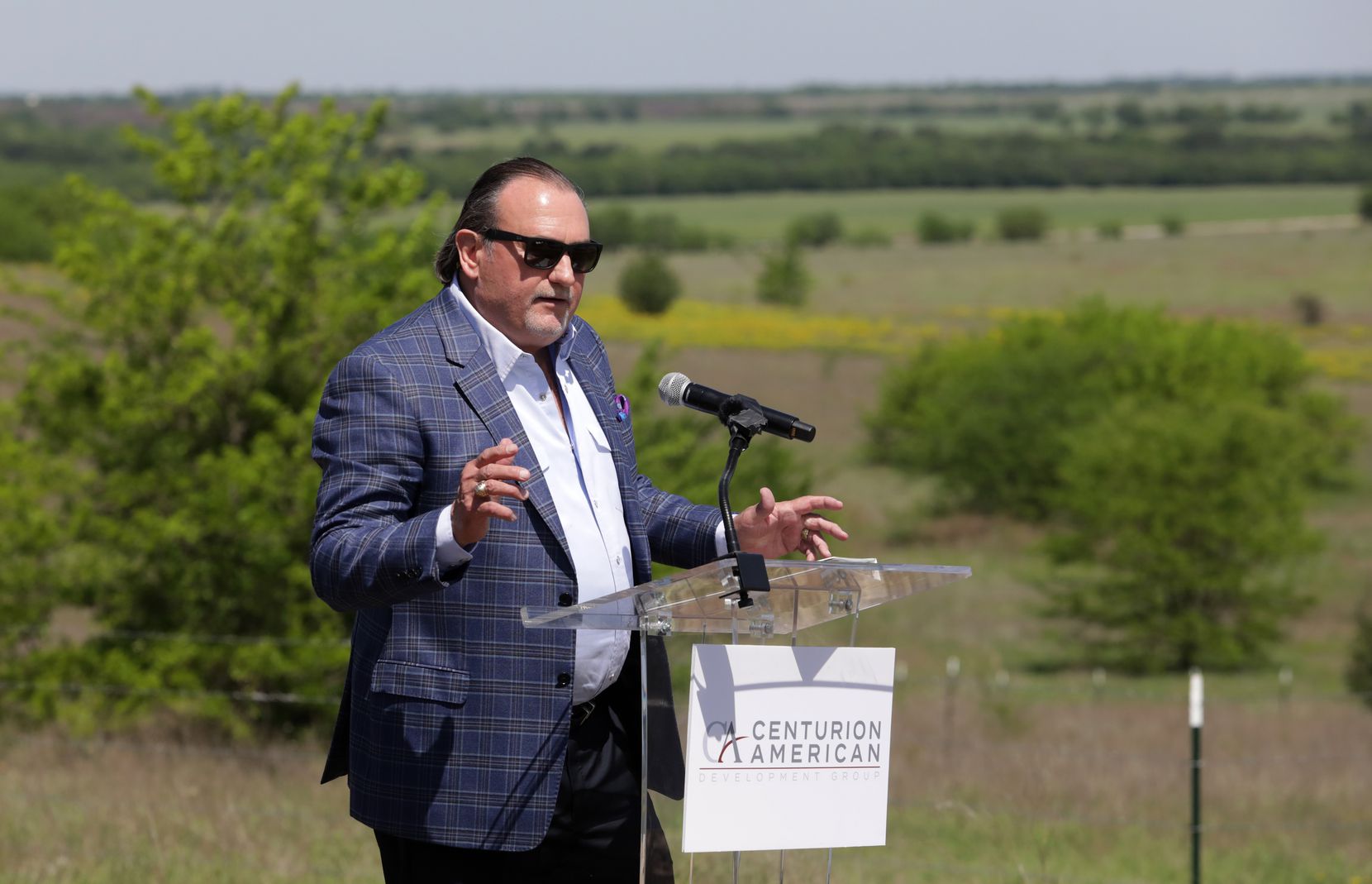 Rex Glendenning, CEO of Rex Real Estate, brokered the land deal for Centurion American. Charlie Adams and Chase Adams of the Stratford Group represented the seller, the Dynavest investment partnership, which owned the land for almost 40 years.
Glendenning said this is "probably the most unique development that Mehrdad, Centurion and certainly that I have ever been involved in" because of the tollway frontage.
Just north of the development, Glendenning brokered the sale of the 1,060-acre Elm Creek Ranch in Gunter.
Centurion American, based in Farmers Branch, has developed more than 30,000 single-family lots in North Texas.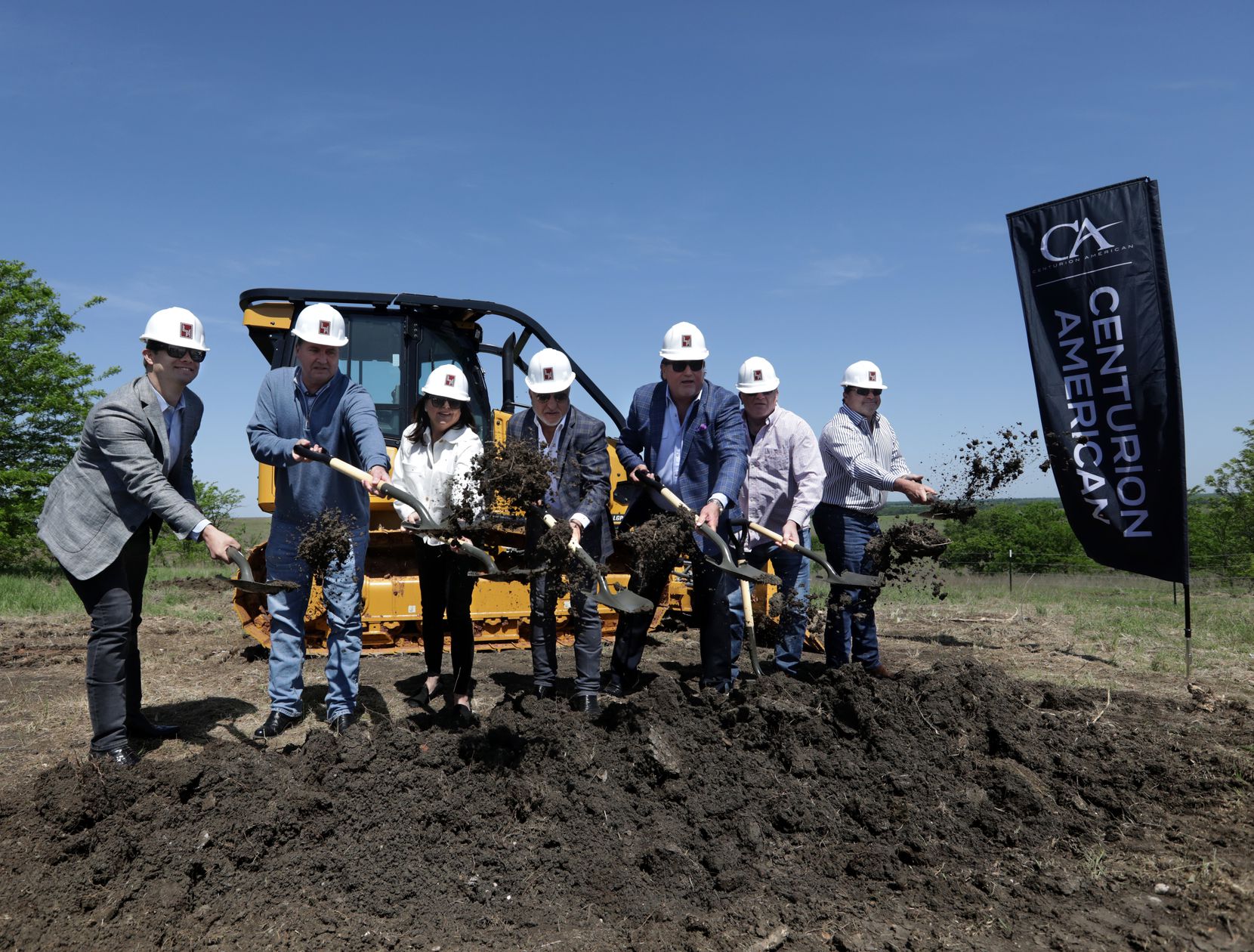 Brock Babb, Jack Dawson, Sherese Glendenning, Mehrdad Moayedi, Rex Glendenning, Jeff Shirley, and Matthew Kiran were on hand for the groundbreaking of Legacy Hills in Celina. (Centurion American)
- Steve Brown, Real Estate Editor, Dallas Morning News
DESIGNED WITH YOUR FAMILY IN MIND
Legacy Hills is a premier, master-planned development situated on approximately 3,200-acres in Celina, Texas. Conveniently located near Legacy Drive and Celina Parkway, Legacy Hills will be the most sought-after development in North Collin County and will provide direct access to the new Dallas North Tollway extension currently being built. In addition, this master-planned development will feature an array of amenities such as a 27-acre city sports park, seven amenity centers, playscape areas, 3-mile walking and biking trail, and more.
Distinct tracts within Legacy Hills will feature a wide range of single-family home designs on 40-, 50-, 60-, and 65-foot lots from some of the area's top home builders. In addition, children in Legacy Hills will attend the acclaimed Celina Independent School District, which plans to include two future Celina ISD elementary schools.

MASTER PLAN
The 3,200-acre development will include a broad array of residential and commercial facets, including:
7,000 single-family residential homes

4,100 multi-family units

100 acres of commercial development

A 27-acre city sports park
Two 12-acre sections for future Celina ISD schools
Two fire stations
Police station
An extensive network of walking trails with abundant amenities
7 amenity centers
An 18-hole championship golf course complete with a clubhouse, driving range, putting green and short game


AMENITY CENTER
Each of the 7 subdivisions within Legacy Hills will feature an amenity center with a community swimming pool and playscape area.
Shown below is the largest amenity center in Legacy Hills.