Apr 26 2022 4:00 PM
Here's what's developing on the Dallas North Tollway extension north in Grayson County
Over the last couple of decades, real estate broker Rex Glendenning, CEO of Frisco-based Rex Real Estate, has negotiated some of the region's biggest land transactions, setting the stage for residential, office, mixed-use and industrial projects that have built and reshaped North Texas and continue to do so.
Specializing in land along the Dallas North Tollway and Preston Road, Glendenning and Rex Real Estate have brokered developments such as Granite Park, Frisco Bridges, Prosper Gateway and the new home of the Dallas Cowboys, The Star, a couple of miles north of the Dallas North Tollway intersection with Highway 121 in Frisco.
Keep heading north on the tollway or Preston Road — past Frisco, then Prosper, then Celina — and you get to Gunter just north of the Grayson County line.
That's where a partnership led by Glendenning and Rex Real Estate has acquired 2,276 acres of land in two separate transactions just weeks apart. The property is envisioned for a master-planned community of over 7,000 single-family homes, 1,500 apartments, plus retail, office, schools and industrial use.
Arizona-based Walton Global was the seller of both properties — a 1,215-acre piece called Kimberlin Heights that closed at the end of March and a 1,061-acre chunk called Elm Creek finalized this week. The area is also known as the Double Platinum Ranch.
Glendenning, who negotiated the transactions on behalf of Raj Kiran Veeramachaneni, Sudheer Rabu Bagham and Ravi Kollipara of Midas Global Investments LLC, sees the acquisition as the next logical step in the dynamic development progression up the "Golden Corridor" between Preston Road and the Dallas North Tollway extension.
A Municipal Utility District has been established on the property, which allows the development to offer increased amenities and a range of affordable housing, enabling the property to be competitive within the market, said David Peter, executive vice president at Walton Global. The property has a comprehensive development agreement with the City of Gunter and a TCEQ permit for wastewater treatment onsite. The concept plan includes a mixed-use, master-planned community with single-family housing, commercial and recreational open space.
The property lies along the future right of way of the Dallas North Tollway running north from Collin County, with two miles of frontage along the tollway path and along State Highway 289, commonly known as Preston Road.
Caleb Lavey with Rex Real Estate and Taylor Boyd with Adler Properties acted as brokers for the buyer and seller.
Glendenning knows the Kimberlin property well. He's sold it three times.
"I sold it to an investor, then to Walton, then from Walton to this investor," he said. "That's the third time I've sold that tract."
"With the tollway extension scheduled to be completed by late November of this year, the timing for this new master-planned community couldn't be better," Glendenning added.
In the following interview with the Dallas Business Journal, Glendenning shares his view on how the land will develop.
What are the investors' plans for the property? Are they going to hold it and then turn around and sell it to a developer ultimately, or will they develop it?
I think what's going to happen there is Grayson County's trying to take the cue from Collin County on being proactive in making things happen beforehand about the extension of the toll road. They have agreed, and they're in the midst of extending the tollway from the Grayson-Collin line to FM 121 in Gunter. Then Grayson County has plans of extending it yet again from FM 121 to FM 902, which would create two miles of frontage on the acreage that Walton sold.
What's the timetable?
There's a push to try to get all of those agreements to dedicate the right-of-way for that road to occur by the end of this summer. If we do that, which I believe we can do, then the county has verbally agreed to build a chip-and-seal (hardtop) road up to that point. For most people, they don't know what they're driving on. They don't know if they're driving on concrete, asphalt or chip-and-seal. That road needs to be extended up to FM 902 in order to provide the appropriate marketing window for that property. If we can get that road right-of-way donated by the end of the summer, the county's going to agree to build the chip-and-seal, hardtop road up to 902, and if and when that happens, then this would be a marketable development project.
What type of project is envisioned?
What I would deem to be entry-level housing. So when you drive through Frisco, and you can't buy a house unless you have $700,000 or $800,000, and you drive through Prosper and you can't buy a house unless you have $650,000, and you go to Celina and you can't buy a house unless you have $450,000, then you get up to the (Gunter area). You need to be able to offer a family a home for $250,000 to $275,000, and people will drive another eight or 10 miles for that value. I think it's going to be a price point that you're going to have to hit that might be $100,000 to $150,000 less than Celina. What's going to drive the market up is going to be projects built right now or at least for the next several years that would be sensitive from a price point perspective.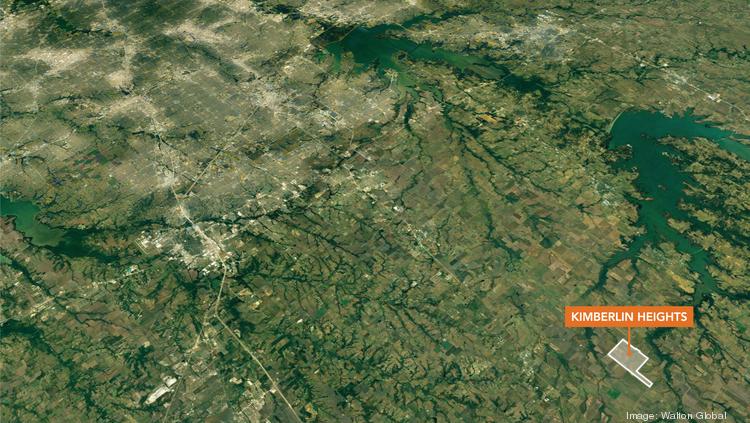 - By Bill Hethcock – Senior Reporter, Dallas Business Journal