Apr 26 2022 3:55 PM
Investors round up another big ranch sale north of Dallas
Another big ranch has sold north of Dallas — the second recent major land trade near the Grayson County town of Gunter.
The 1,060-acre Elm Creek Ranch is the latest sale. Situated between Preston Road and the future route of the Dallas North Tollway, the property is southwest of Sherman, where Texas Instruments is spending billions of dollars on new semiconductor plants that will employ thousands of workers.
Elm Creek Ranch is just north of the new Legacy Hills development, which Centurion American recently acquired and where it's planning more than 10,000 homes and apartments.
A partnership led by investors Vijay Borra of DFW Land and Ramana Juvvadi bought Elm Creek Ranch.
"The property has beautiful lakes along with rolling terrain ideally suited for a master-planned development," said real estate broker Rex Glendenning. "This tract is extremely well-positioned, with extensive frontage along future Grayson County Parkway, and is only about a mile from both Preston Road and the Dallas North Tollway Extension."
Glendenning said the purchase builds on recent land sales north of Dallas in Celina and now in Gunter.
"Land prices in Frisco and Prosper are getting to the point where delivering an affordable or what we once called entry-level home is virtually impossible," Glendenning said. "Being able to acquire a home within 30 to 45 minutes of Legacy Town Center and The Star while also being located within an exemplary school district is a tremendous draw to new homebuyers."
"This area reminds me of the Frisco/Prosper market area 10 to 15 years ago, with both great location and excellent schools," he said. "The Celina/Gunter market is the new place to be for master-planned housing projects that are still priced within reason."
The sale of Elm Creek Ranch follows an acquisition earlier this month of the 1,215-acre Double Platinum Ranch near Gunter.
Glendenning and Caleb Lavey of Rex Real Estate brokered both of the big land transactions.
With a population of more than 2,000, Gunter has almost doubled in size during the past two decades and is expected to see more significant growth as development just to the south in Celina pushes north.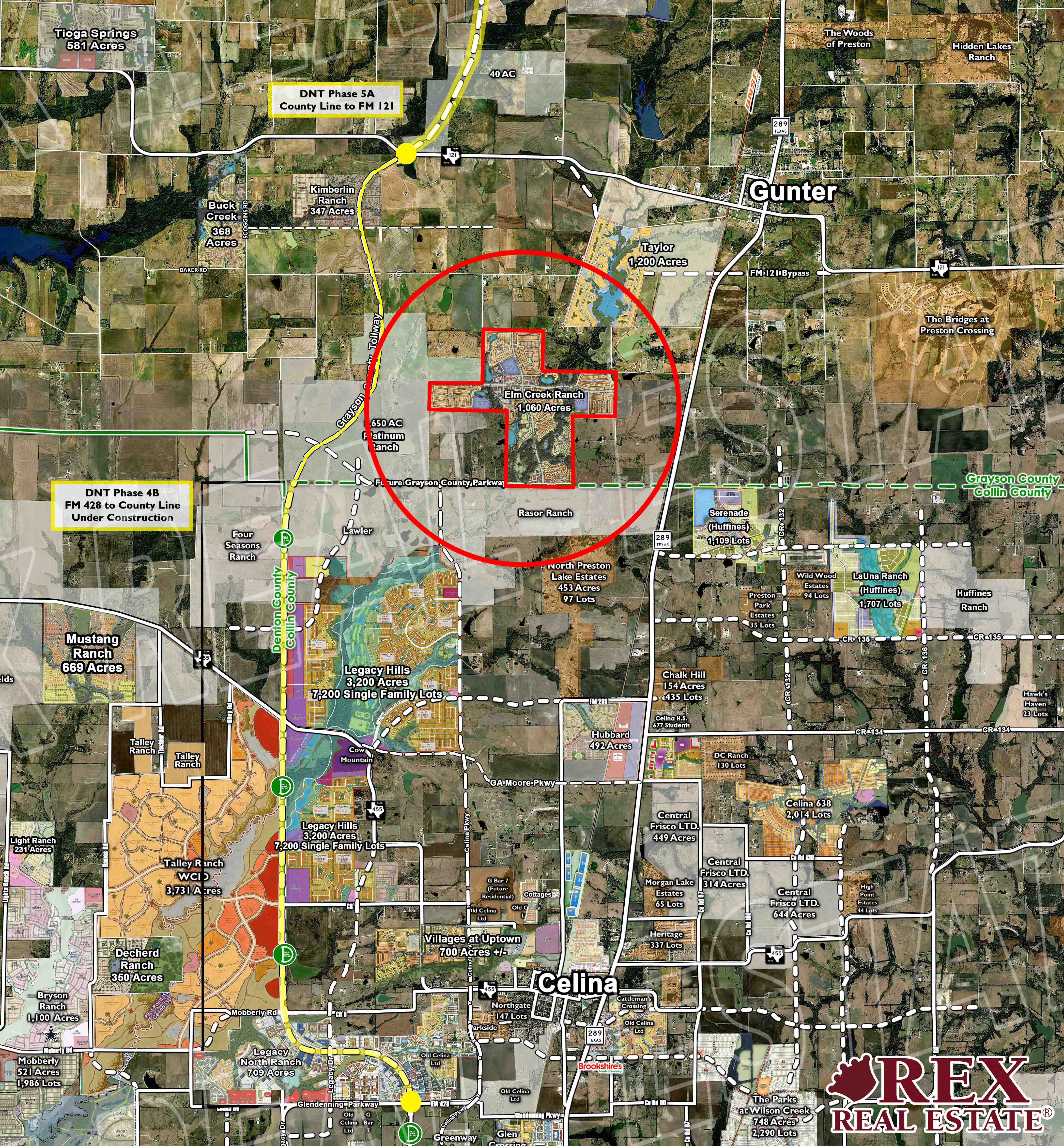 The Elm Creek Ranch is between Gunter and Celina. (Rex Real Estate)
- Steve Brown, Real Estate Editor, Dallas Morning News