Jun 22 2022 11:30 AM
What to know about the Scottish Rite land purchase in Celina
According to Collin County deed records, Scottish Rite for Children purchased roughly 76 acres of land in Celina that will include about three-quarters of a mile of frontage on the Dallas North Tollway as well as east-west access via near Punk Carter Parkway and the Collin County Outer Loop.
The move comes six months after Celina received news of the first hospital that would be making its way to the city. Methodist Health System announced the "Methodist Celina Medical Center" in January. The $200 million project will go on 46.7 acres of land at the southeast corner of the Dallas North Tollway and FM 428.
The Scottish Rite deal also follows a more recent announcement: Baylor Scott & White has submitted a rezoning request for a 47-acre piece of land off of PGA Parkway and the tollway in the northern sector of Frisco.
The three moves are indicative of a focus on bringing healthcare north as growth follows development along the Dallas North Tollway spine, and REX Real Estate brokered all three acquisitions.
"They're all positioning themselves to have major campuses in the areas of Frisco, Prosper, Celina, and we're lucky enough in Celina to have two major hospitals now that have landed in our community," Rex Glendenning of REX Real Estate told The Celina Record.
For Glendenning, a Celina resident, seeing two hospital anchors come to Celina is both fulfilling and exciting.
"Having lived here all my life and being a fourth-generation Celina-ite, and my children being fifth- and my grandchildren being sixth-generation Celina-ites, it's wonderful to see quality healthcare like this coming to our community after not having anything for a long, long time," he said.
Glendenning said Scottish Rite began looking at sites about a year ago and decided to focus on the area between Frontier and Glendenning parkways.
"They felt that this property gave them the best of both worlds because they had excellent north-south connectivity with the tollway as well as excellent east-west connectivity with the Outer Loop, combined with the additional neighborhood local connectivity with Punk Carter Parkway from Preston Road over to the tollway," Glendenning said.
The deal closed last week, according to Collin County records.
"I'm just happy to see a wonderful hospital brand like Scottish Rite locate in our community," Glendenning said. "I think it'll be a great thing for families for years and years and decades to come."
The city of Celina confirmed the purchase Wednesday morning, adding that no construction dates or plans have been announced. Scottish Rite declined to provide comment.
"Celina is thrilled to welcome Scottish Rite for Children to what is becoming a healthcare corridor along the new Tollway expansion," City Manager Jason Laumer said in a Celina press release. "With so many families moving to this community, having adequate care for children is going to be imperative, and Celina will be fortunate to have some of the most skilled pediatric specialists in the country treating our young residents."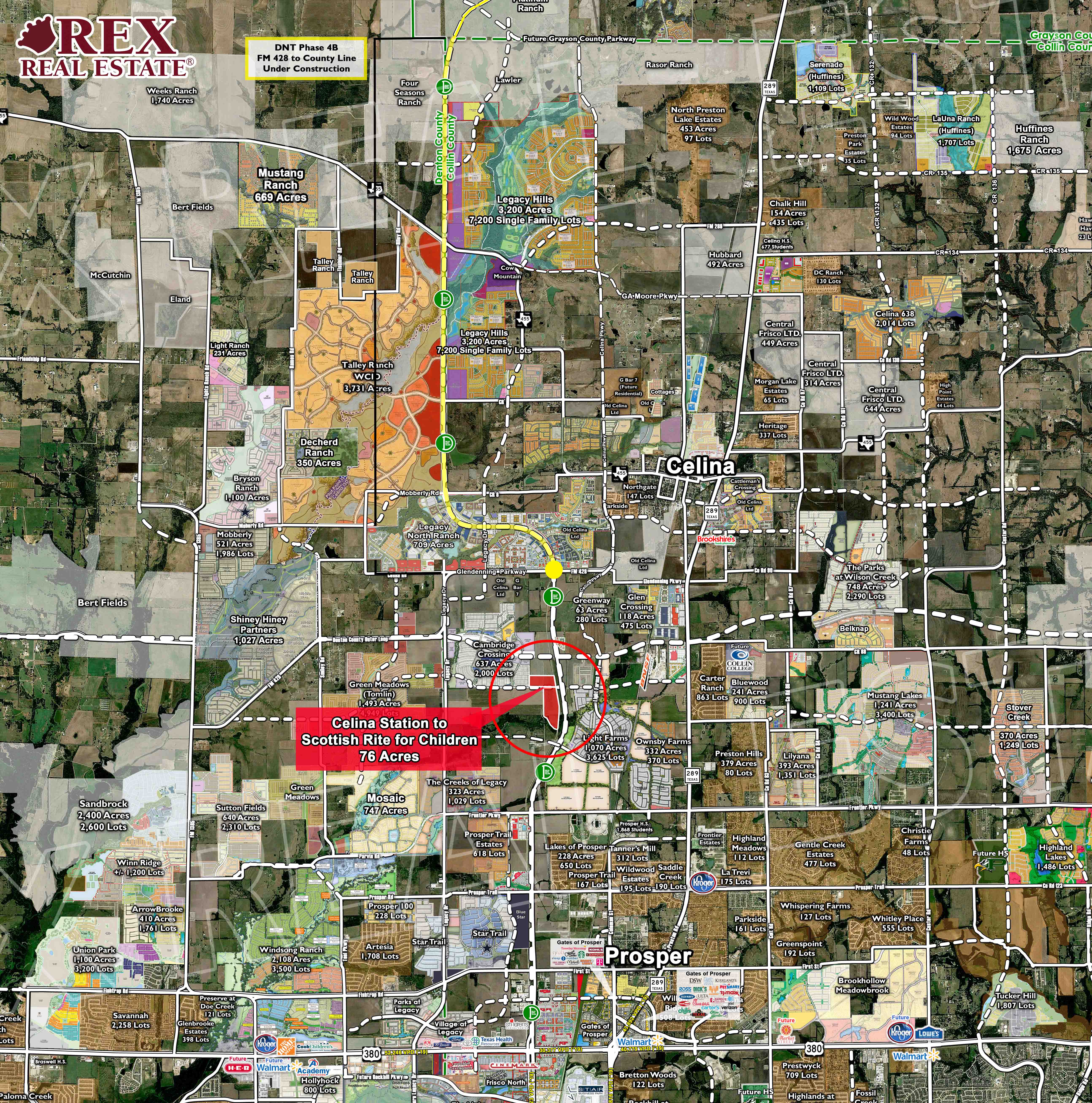 The Texas Scottish Rite Hospital site is along the Dallas North Tollway extension. (Rex Real Estate)
- By Audrey Henvey | Star Local Media | Celina Record