Feb 28 2023 4:30 PM
Sherman's semiconductor hub attracts massive land buy for home development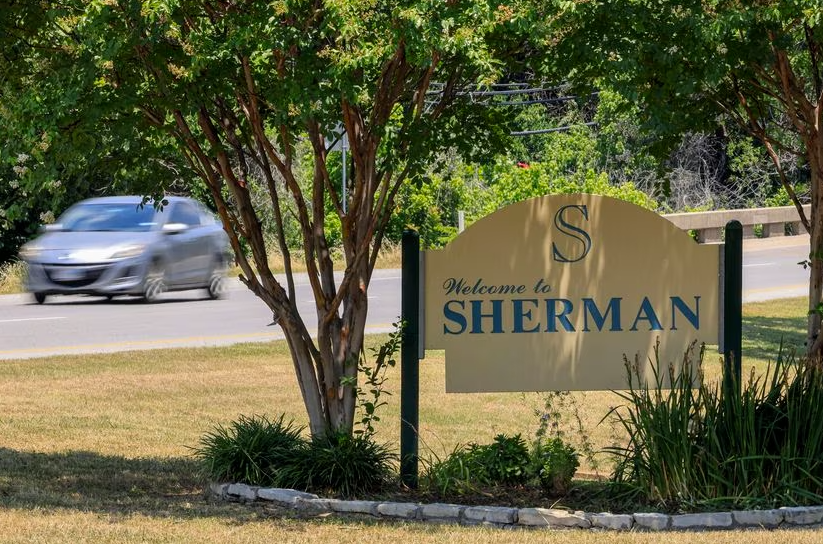 Sherman city leaders view the city as a key hub for the semiconductor supply chain, from producing the wafers used to make chips to the chips themselves.(Elias Valverde II / Staff Photographer)
Centurion American Development is planning thousands of homes and apartments on nearly 1,500 acres just off U.S. 75 in Grayson County.
One of North Texas' top land developers is buying almost 1,500 acres in the Sherman area for a mixed-use project near where $35 billion in semiconductor-related expansions are planned.
Centurion American Development Group's Cottonwood community site is just off U.S. Highway 75 in Grayson County. It's 55 miles north of Dallas and south of Sherman – a city that's seeing a spike in real estate activity in anticipation of the new plants employing thousands of workers.
The site on FM 902 is in near the town of Dorchester and south of where construction is underway on the first of potentially four massive high-tech plants being built by Texas Instruments. The Dallas-based company plans to invest $30 billion in a complex that will build chips. Taiwanese company Global Wafers is building a $5 billion plant nearby that'll produce silicon wafers used to make chips.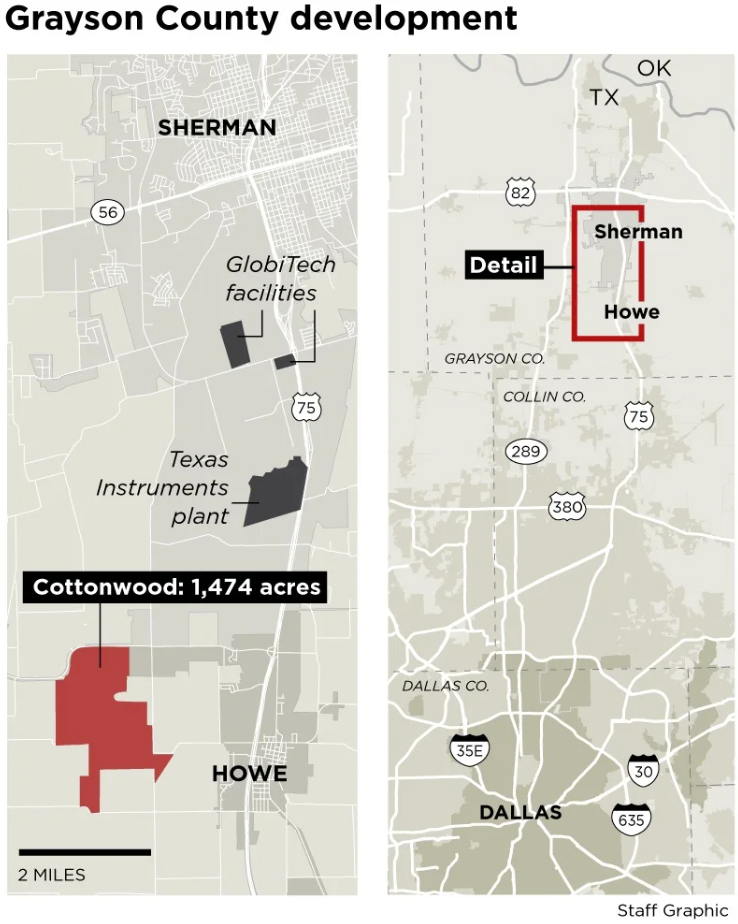 "The property is extremely well positioned to capitalize on the new growth expected to be fueled by the two new multibillion-dollar chip plants being constructed approximately three to five miles to the north," said Rex Glendenning, the real estate broker who just handled the big land purchase. "Centurion has done an admirable job of staying ahead or out in front of these new high-growth areas."
Semiconductors, the tiny chips that power modern computers and other electronic devices, are key to the Sherman area's economic development plans. The city wants to be home to companies along all steps of the supply chain, from crafting silicon wafers to creating circuit boards for consumer products.
The Centurion American project consists of 4,000 single-family lots, along with 1,450 rental units and 250,000 square feet of commercial and retail space, Glendenning said.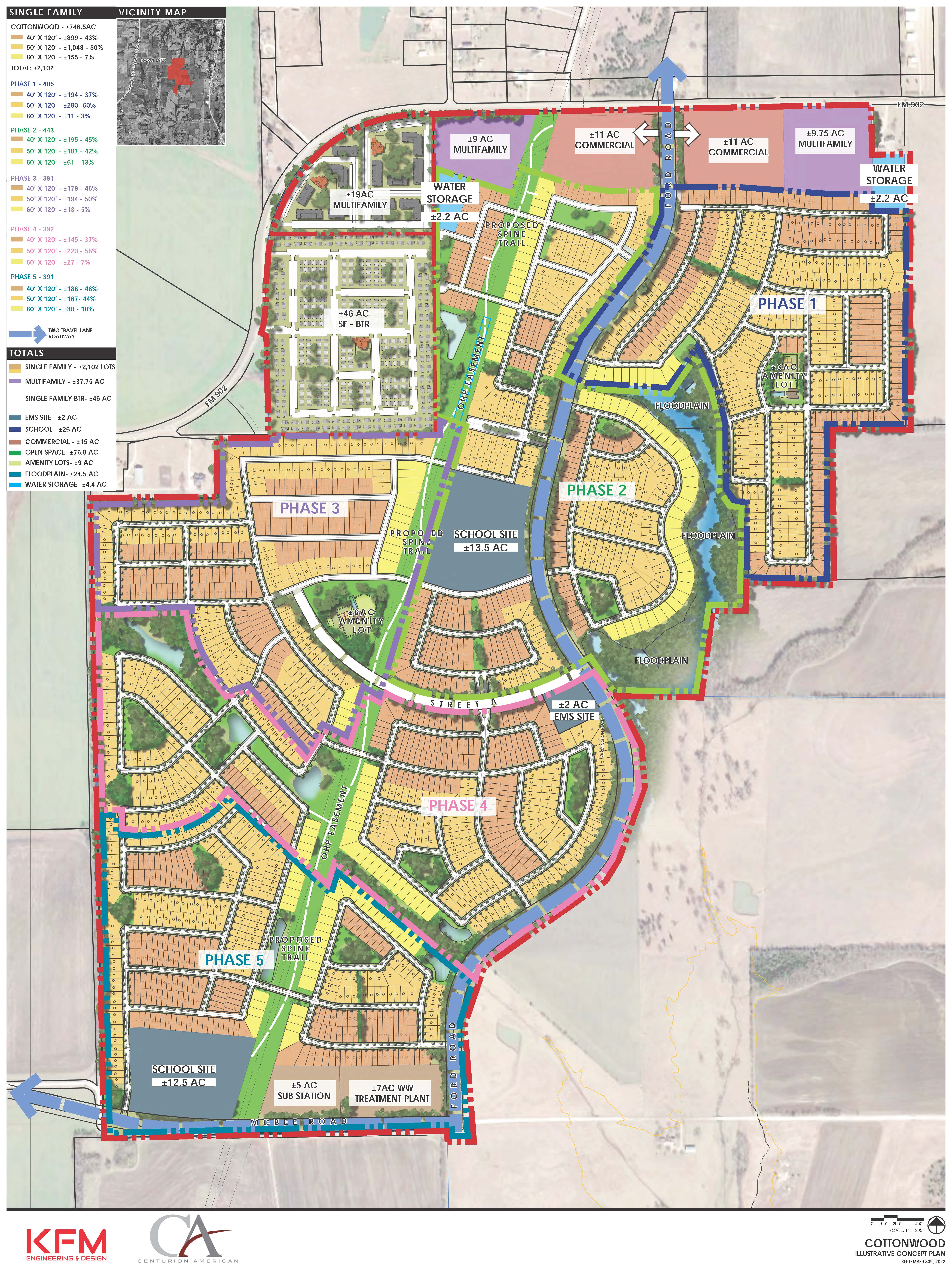 The Cottonwood development is planned for thousands of single-family homes and apartments.(Centurion American Development )
The property was sold by Arizona-based investor Walton Global. Terms of the transaction were not disclosed.
"It has been a pleasure working with Walton Global to close this deal and expand our presence into Grayson County," Mehrdad Moayedi, CEO and President of Centurion American Development Group, said in a statement. "We know that Cottonwood will be a community which will bring pride to the town of Dorchester, Grayson County and Howe ISD."
Centurion American since 1990 has developed more than 100,000 single-family home lots in dozens of residential communities.
The Farmers Branch-based company is building a series of major residential communities stretching north from Frisco. The largest is the 3,200-acre Legacy Hills community with 7,000 homes on the west side of Celina.
Glendenning also represented Centurion American in recent property purchases in Gunter, southwest of Sherman.
"Centurion has successfully transitioned its single-family development platform from Frisco north to Little Elm, Aubrey, Celina, Anna, Gunter and now the Sherman market as we march ever closer to the Red River," Glendenning said.
Centurion American is buying the Cottonwood property in two phases, closing first on a 680-acre sale, Glendenning said.
The property has been established as a municipal utility district to pay for infrastructure.
Glendenning and Caleb Lavey of Rex Real Estate handled negotiations for the sale by land investor Walton Global. Taylor Boyd with Adler Properties also worked on the transaction.
Walton Global has invested in more than a dozen tracts of land in North Texas.
Residential community development has pushed north of Dallas from Collin County with new projects in Anna, Melissa and Van Alstyne.
A large tract of land along U.S. 75 north of Anna sold last fall to developers.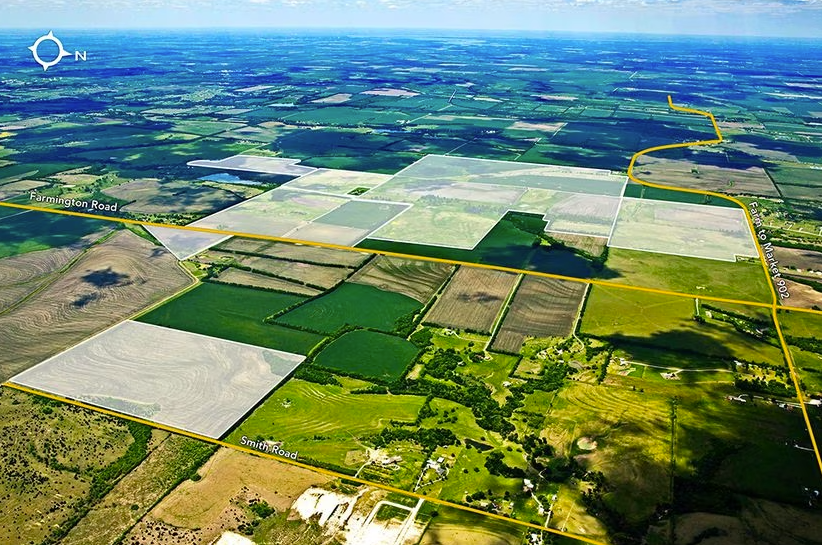 The Cottonwood community property is located south of Sherman near U.S. 75.(Walton Global)
- Steve Brown, Dallas Morning News